The Gerber Rivermate safety knife
After my last safety knife, rusting to oblivion, finally finding it's way to it's final resting place at the bottom of the Pacific it was time to check out a new one. I saw the Gerber Rivermate a few times and was a little intrigued with it's design. It is a little different than it's more popular counterpart, the River Runner, also made by Gerber so thought I'd check it out.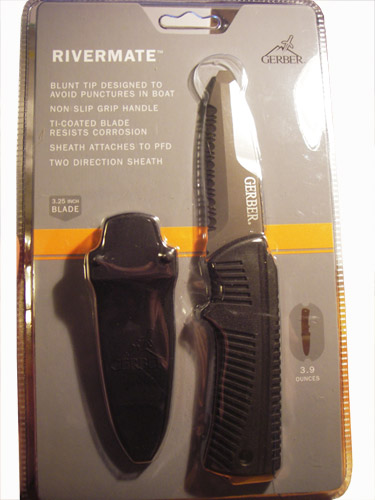 First impression, it doesn't have a knife blade, it has a saw blade! The teeth on this "knife" are absolutely hideous and would make any Great White give it a once over with envy.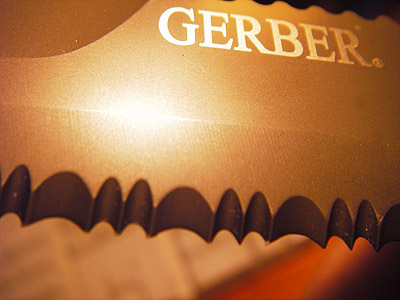 The 3.25" blade has absolutely no problem cutting though any kind of webbing or rope. It actually does a fair job on wood! Apart from the serration there's no other cutting surfaces on the Titanium coated blade so it's a safety knife at heart. The tip is blunt to minimize stabbing yourself and the top of the blade is thin which seems like it it's designed to pry things apart.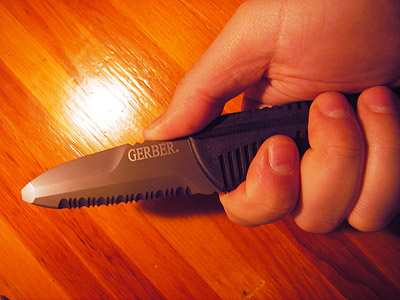 The blade's tang runs clear out the back of the knife which makes it ultra sturdy from tip to tail as one chunk of metal. The butt could probably useful as a hammer as well.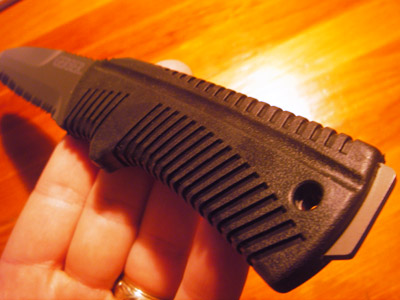 The grip is made of solid rubber and very.. well, grippy. In the water it's always easy to hold on to and if you're a little worried about losing it there's also a hole for a lanyard. There's a nub in the handle that fits in between your index and middle finger and does a lot of good for grip when sawing back and forth through things. This thing's an awesome gill cutter!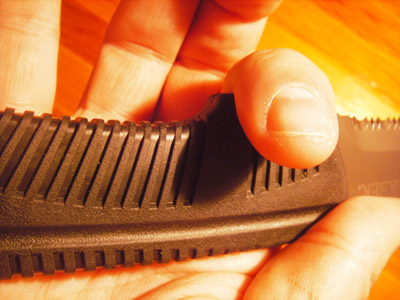 The sheath is wider and flatter compared to others and has an interesting fastening feature. There's essentially two rivets running through the sheath on either side where two notches from the knife snap into.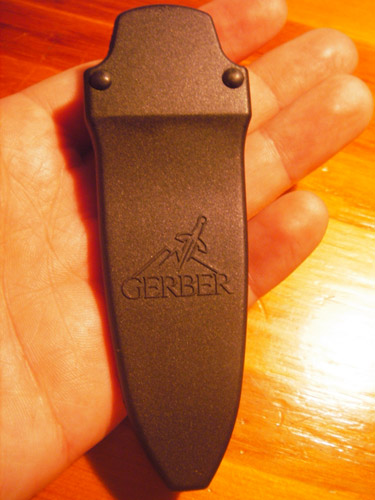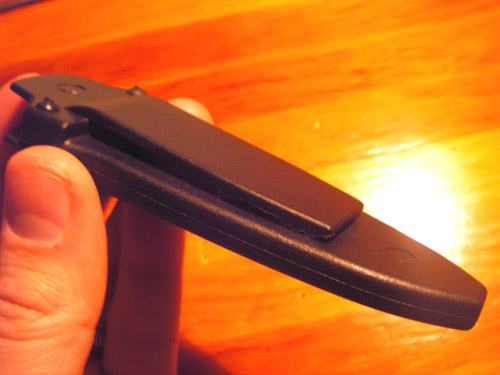 Rivets for securing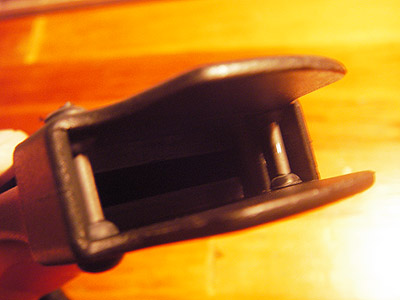 Notches in knife (top and bottom) for securing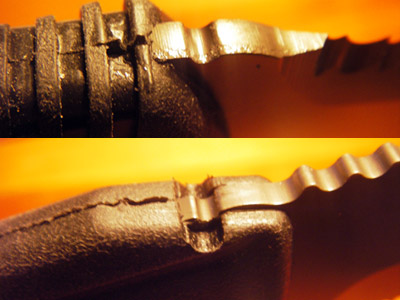 It's pretty tough to pull out or put in at first but there's no doubt, it's not going to just fall out. I'm sure over time it will loosen up but for the time being let's just say, hold the sheath firmly when removing or stowing. The knife can be placed either side up which is also good so the right handed and our south paw counter parts can pull it with ease.

The entire package is quite lightweight overall (3.9 ounces) and fits well on a PFD with a plastic securing point. So overall if you're looking for a solid safety knife thats going to be used as a safety knife to get you out of a jam, the Rivermate should do you well. If you're looking for a safety knife that's going to do more than that, say double as a bait knife, you're better off looking elsewhere.

The Rivermate can be found at most kayak and outdoor stores and retails for $40
For more info check www.gerbergear.com