Prawn spinners for Springers 101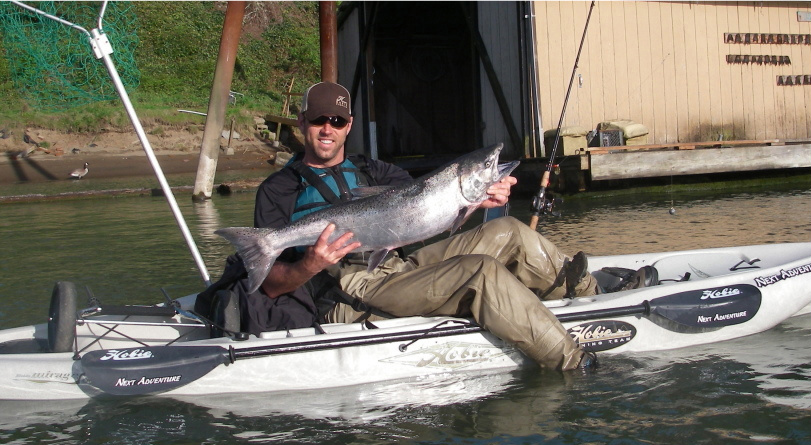 There are many ways to catch Spring Chinook in Portland's waterways. Many big fish are taken locally using various techniques such as drifting eggs, trolling cut plug herring, Quick Fish, Flat Fish and Salmon Spinners. However, my personal favorite and most deadly technique is using Prawn Spinners. They are deadly for much of the springtime run, and their efficiency in taking large salmon, increases as spring passes through.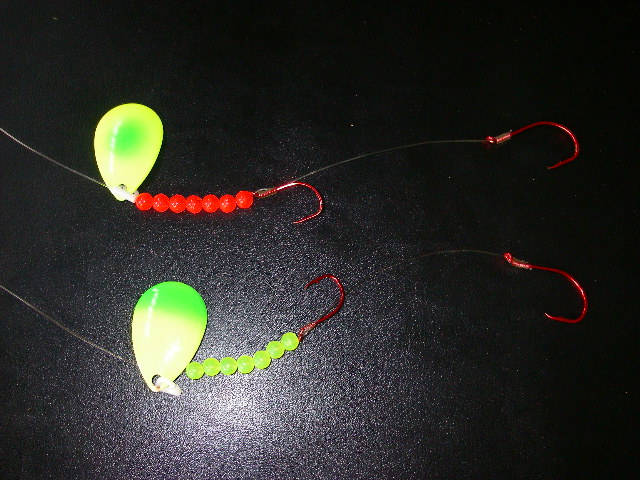 Typical Prawn Spinners.

Using Prawn spinners
• Trolling or suspended trolling is when you're on the move either upstream or downstream while trolling your Prawn Spinner between depths of 8 to 25 feet.
• A lot of times a zig zag across river downstream is very effective and can cover a ton of water. This technique is perfect for downstream shuttle trips.
• Most common ways to get your prawn down deep is with the use of a cannon ball lead between 4-16oz, depending on current and kayak speed. Keep enough speed to maintain a nice 45 degree angle on your line into the water.
• Another way to reach the deeper water is with the use of a diver.
• Anchored fishing is going to hold your position in one spot. You're basically waiting for the fish to come to you. The help from scent is very common in anchor fishing as is the use Quick fish wrapped with either sardine, anchovy or herring, the use of cut plug herring or Prawn Spinners.
• Back Bouncing is a very slow movement downstream while slowly tapping and picking up off the bottom. This is another very good way to target a lot of fish quickly. This way can get the a bait in front of their faces while slowly progressing downstream
• Trolling Shelves is my favorite way to fish Prawn Spinners from a kayak.
• It requires a little more attention as there's a ton of stuff going on.
• A couple of tricks I've learned for finding the shallower shelf's are looking for corners in the river or near eddies where sand and rocks build up over time, making small underwater plateaus. Springers use these underwater bars and shelves to either get out of the current or cut corners on their way up river.
• Finding shelves that are out of the main current are my favorite environments for Kayak fishing , since they require a lot less effort to fish.
• When you find just the right shelf that works for you and your kayak, you'll need to work the bottom as that's where most of the springers will be holding on these shallower shelves. Use enough of a cannonball that your tapping bottom .
• Also, try and keep enough weight so your line is heading down at a 45-60 degree angle.
• You don't want to let out too much line as this may cause your cannonball to snag. You always want to make sure that your prawn has a nice swinging roll.
• Also, make sure that your spinner blade is turning free and doesn't get caught up on the tail of the prawn.
• If you have a sonar, use it to make a couple passes overhead . Once you've determined theirs is a shelf, try and visualize how the shelf is shaped, divide up the territory and start making your passes from there. Remember to keep tapping bottom every so often to make sure that you're on bottom.

Tying up your leaders
When tying up these leaders I like to use 25# mono with a size 3/0 red Octopus as the bottom hook as this is the hook that you'll push through the head of the prawn and hopefully stick it in the jaw of your springer.
• I like to run a 4" gap between my bottom hook and the top hook.
• At the top I will usually run a size 1 red Octopus that I will stick thru the top of the tail.
• After I hook the small hook thru the tail meat, I push the small prawn flippers thru the egg loop on the top hook.
• You'll want to stack enough beads to keep your blade from hitting the tail of the prawn when they spin.
• The more the water clears and slows, you may want to consider dropping down blade sizes or even removing the blade entirely. I personally like to use some sort of blade, but just drop way down in size.
• May favorite spinner blade colors for Springers is pretty much anything with Chartreuse, but many colors and combo's work well.
• Try using a size 3 or switch to a 4 for slightly off colored water.
• I always have the best luck using the red prawns, but hear that pink's works well too.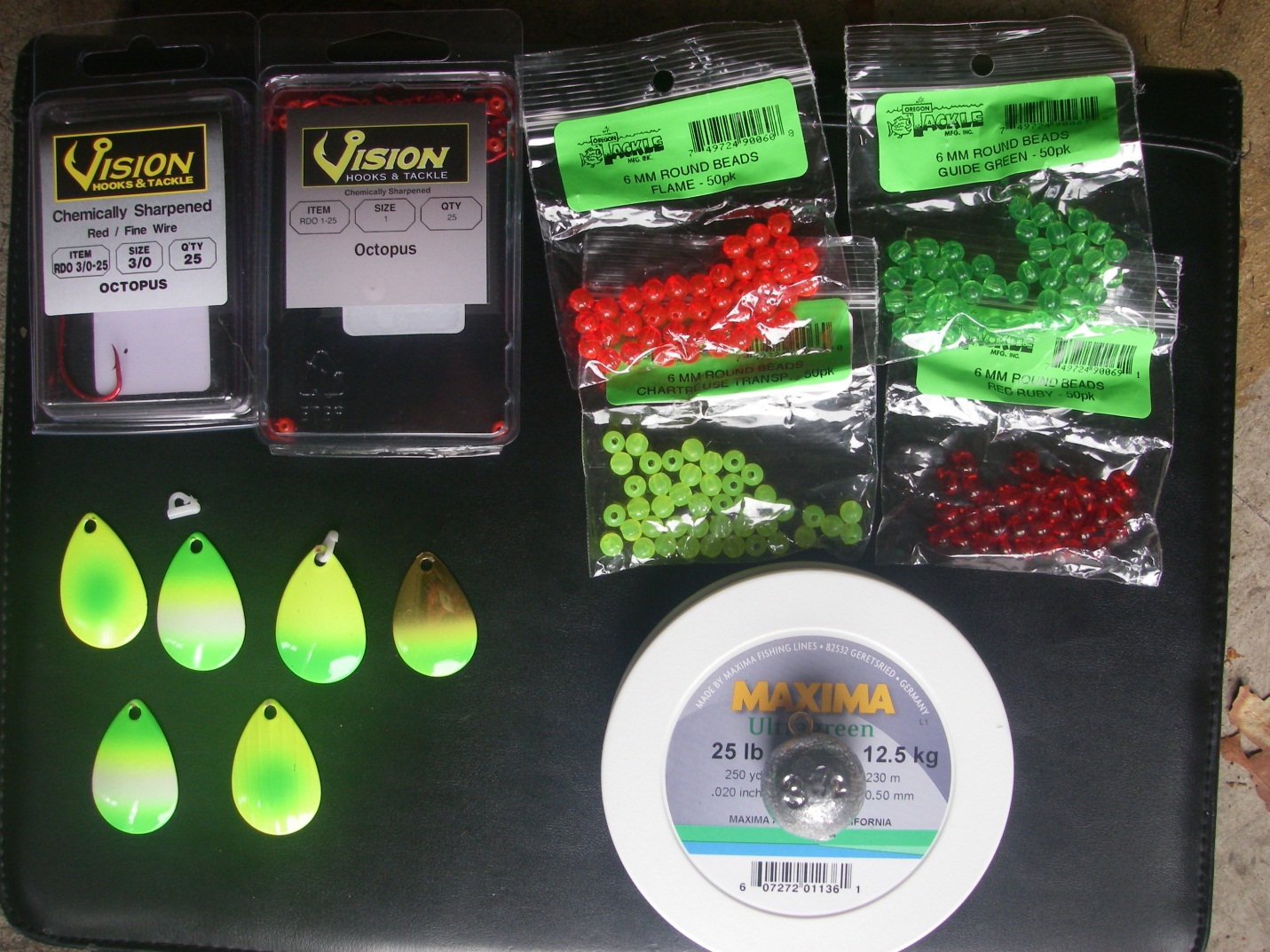 Caption: These are a few of the supplies that I like to use for tying up the rigs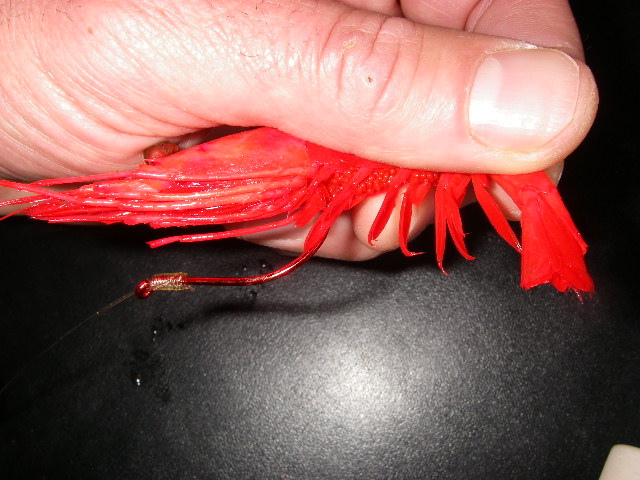 Caption: This is a picture of how to thread the bottom size 3/0 hook thru the throat and back out thru the mouth.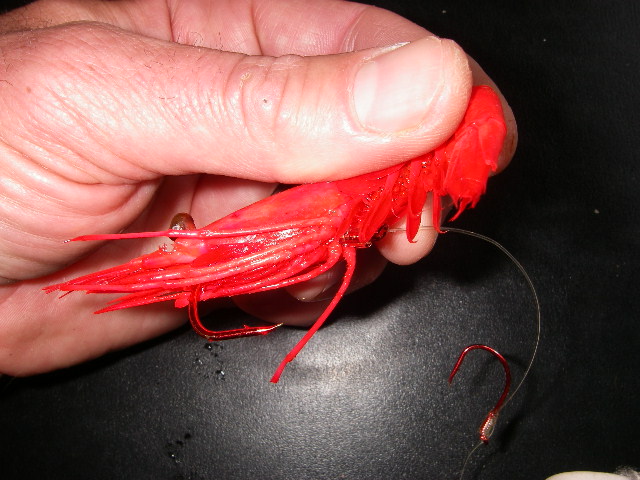 Caption: After you push the hook thru the head try and push the shank of the hook further into the head, which should send the tip of the hook out further away from the head.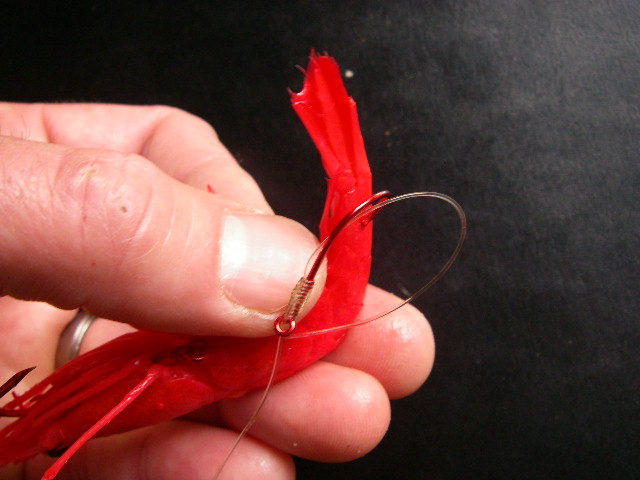 Caption: Now you want to push your top hook(or small hook) thru the tail or abdomen of the prawn and back out. This hook is there to support the prawn. Don't mind the extra mono the bends out and around. It actually helps give the prawn spin.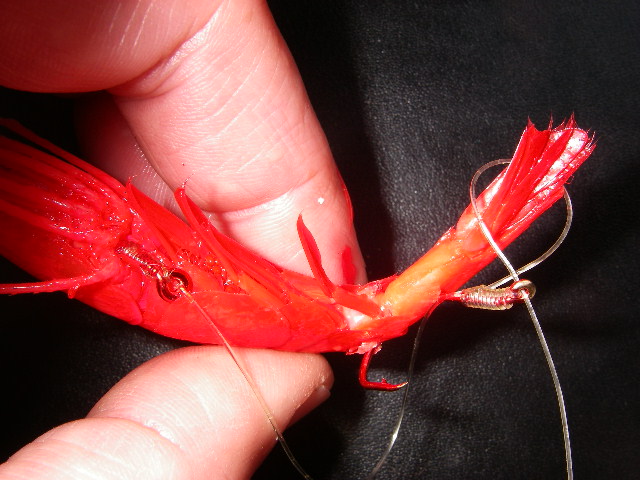 Caption: Once the top hook is pushed thru the tail meat and out, use the egg loop on the top hook to help support the tail so it doesn't bend in the current. It also helps to maintain a consistent spin.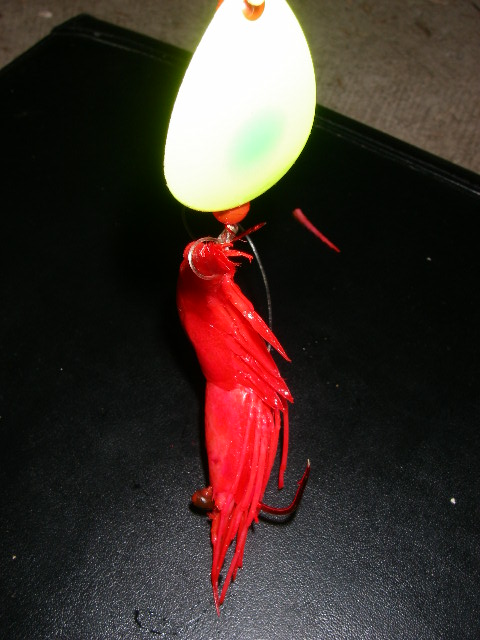 Caption: Shows how the prawn should attach. This is the prawn hanging naturally. Notice the curve in the prawn that's created by where you thread the hooks? This bend in the prawn should help create a consistent looping spin.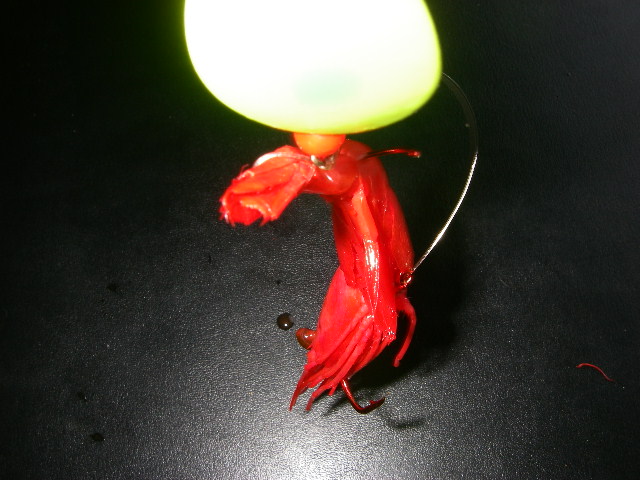 Caption: Is a better picture of how the hooks are positioned and ready to set themselves into your Springer.